MANE BRAIN
Anxiety crushing, focus boost
MANE BRAIN
---
Formulated to enhance your brain's data processing, memory, and stress management, Mane Brain brings a surge of energy, alertness, focus, and memory retention. Strengthen your mind-muscle connection, speed up information retention, and enjoy unparalleled mental clarity with Mane Brain. Boost your brain's power, increase focus, improve memory, and reduce stress with Mane Brain!
Auto-renews, skip or cancel anytime.
To add to cart, go to the product page and select a purchase option
30 Day Money Back Guaranteed
Free Shipping On All Orders Over $100
View full details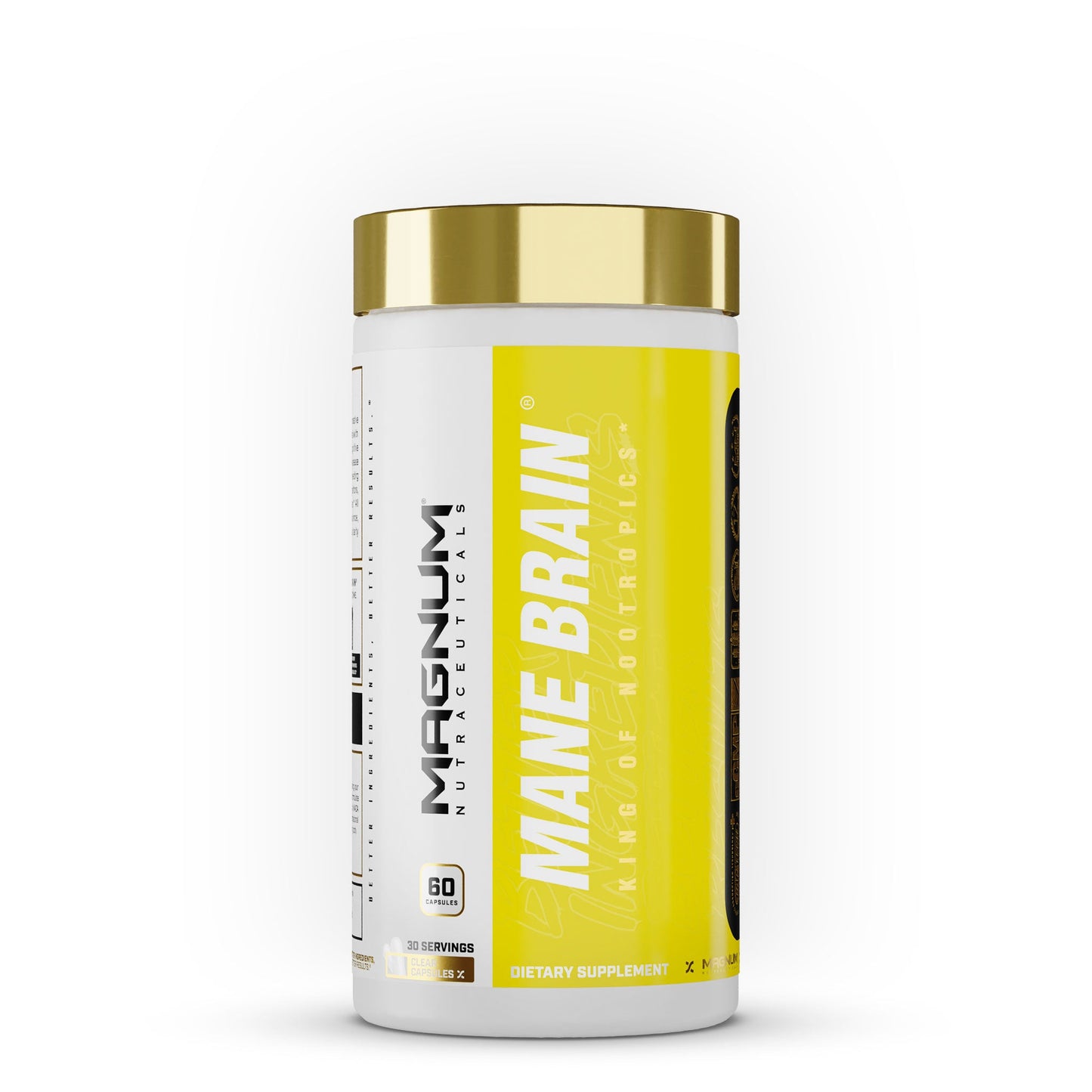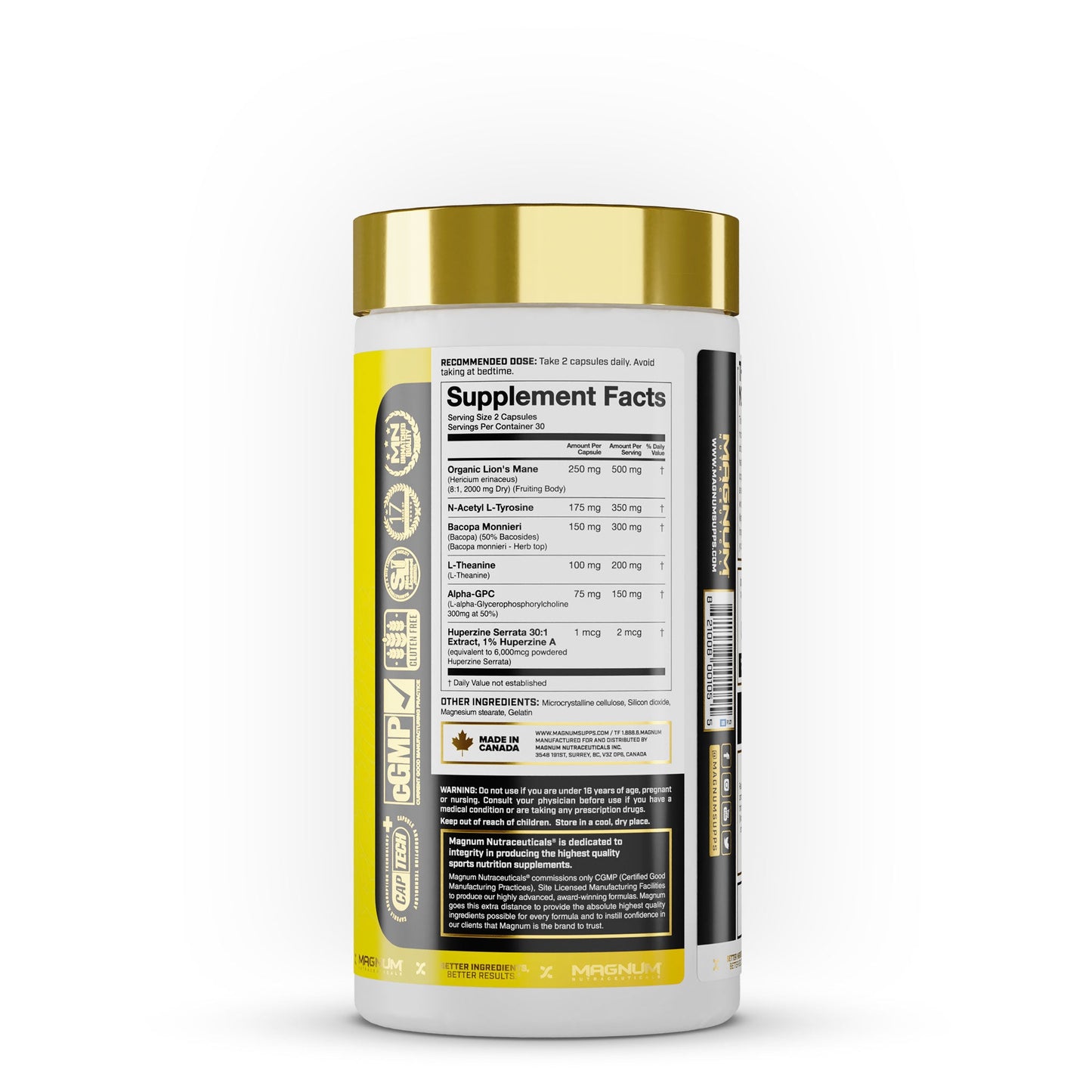 MANE BRAIN Features
Caffeine-free formula
Lion's mane mushroom as an 8:1 extract, standardized for potency
L-tyrosine, an important dopamine building block
Alpha-GPC and Huperzine, to help maintain acetylcholine levels in the brain and increase focus
L-theanine to aid in management of stress and anxiety
Dye-free, Gluten-free caps
Accelerate Your Goals With:
Fully encapsulated vitamin formula

Fat loss boosting pre-workout
Excellent product
Excellent product. It does everything it advertises: energy, focus and helps with stress and anxiety. When is this coming back in stock?
Thank you for your review, Rita! Mane Brain will be available again very soon
I love this product!
I love this product! Oh man life just keeps getting better and better. As a new mom and memory lapses. I can say for sure this has made a huge impact on my day to day. Must have (dont take if breast feeding but worth the wait)
The mental clarity and
The mental clarity and focus you get from Mane Brain is noticeable from the first time you take it! As an entrepreneur, athlete & busy Mom this product has become a daily staple in my life!
Game Changer! Amazing formula to
Game Changer!
Amazing formula to target neurotransmitters responsible for focus, drive, attention and mental clarity. Lion's Mane has shown very positive results in clinical trials! Love it!
Clear CLEAR focus with
Clear CLEAR focus with this! I take it mid afternoon (when I would usually have a coffee pick me up) and it is unreal. Total focus and clean energy with this. I also like to take it pre cardio with heat! Amazing duo!
Frequently Asked Questions
Will this make me high?

No, Lion's Mane is not a medicinal mushroom and does not contain the psychoactive ingredient that causes that effect. Lion's Mane is a functional mushroom that may help with symptoms of anxiety and/or depression.
I'm on medication for depression/anxiety. Can I take this product?

While we have many customers who take this product while taking medication, we advise you consult your physician or a qualified healthcare practitioner before using this product. Some ingredients may interact negatively with medication, so please use caution before trying a new supplement.
Can I take this at night?

Yes, you can definitely take Mane Brain at night. Mane Brain does not contain any stimulants like caffeine. It may help if you feel a lack of energy or focus, but it will not disturb your sleep.
Can I take this with coffee?

Yes, you can stack Mane Brain with a caffeine source like coffee or Fasted Cardio to enhance focus and improve productivity for work-related tasks, since Mane brain does not contain any caffeine.