BIG C
Strength Boosting Creatine Blend
BIG C
---
A unique blend of four potent creatines, designed to ignite strength, build muscle, and enhance exercise performance. Aims to accelerate lean muscle growth, improve endurance, maximize capacity, and eliminate water retention. Boosted with vitamins B6, B12, and D for overall health. Say goodbye to water weight and hello to gains with Big C!
30 Day Money Back Guaranteed
Free Shipping On All Orders Over $100
View full details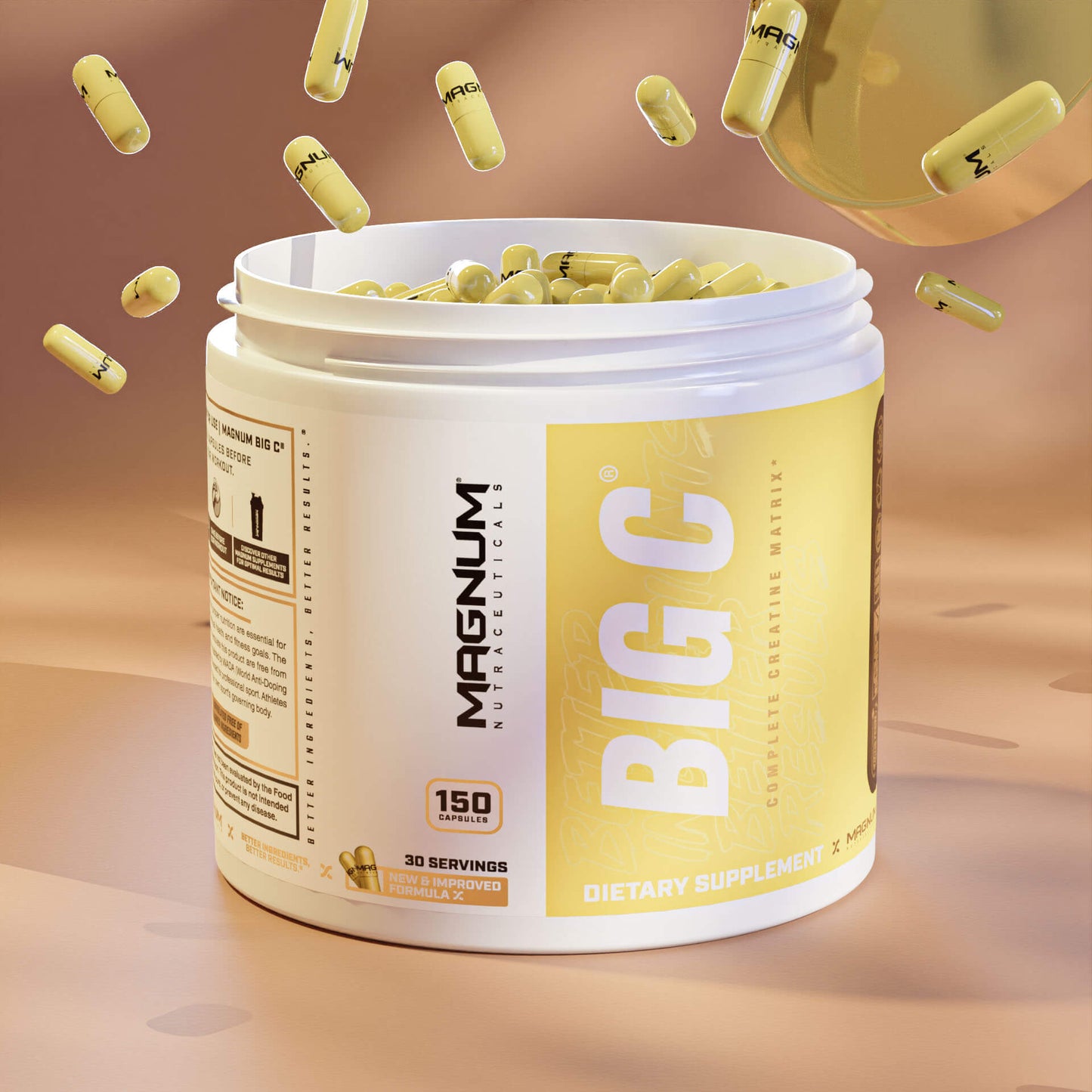 Accelerate Your Goals With:
Prevents muscle breakdown

Regular price

Sale price

$44.99 USD

Unit price

per

Promotes overall hormone health

Regular price

Sale price

$69.99 USD

Unit price

per

Muscle-building, 4 protein isolate blend

Regular price

Sale price

$44.99 USD

Unit price

per
Nothing but the BEST!
Easily the best creatine I have ever used. I've been training for close to 10 years now and I've tried a few different monohydrate creatines, which did their job fairly, but nothing quite as noticing as BIG C.
Love this product! But...
Love this product! But, it's been out of stock for over 6 months now... when will this come back in stock?
Back in stock?
When will this be back in stock?
When?
When will this ever be in stock?
Thanks for your review, Marc! We're working on getting Big C back very soon!
I love this creatine
I love this creatine and I have taken a few different ones and this one by far is the best
Frequently Asked Questions
Should I stop taking creatine if I'm trying to lose weight and get leaner?

No, you should keep taking creatine when trying to get leaner. Creatine helps you look leaner as it helps drive water into your muscles. By doing this, it also reduces the amount of water under your skin. Creatine also increases your training output, so you can lift more weight, which in turn helps increase your energy expenditure.
I get stomach cramping after taking this product. Is there any way to fix this?

Stomach cramping may occur due to lack of water. Creatine must be consumed with an adequate amount of water to dilute it, otherwise you may experience cramping and/or bloating. Around 2 cups or 500 mL water should be enough for the 5 capsule serving.
Do I need to take creatine with a carbohydrate?

You do not need to take it with a carbohydrate, however, taking creatine with a protein shake, or alongside a carbohydrate containing smoothie may help the absorption.
I'm already taking Limitless, which has creatine, so do I need to be taking Big C?

If you're taking Limitless, then you're only taking creatine on training days. We recommend that you take Big C on non-training days as creatine must be taken daily in order to saturate phosphocreatine stores.