HEAT ACCELERATED
Mood-boosting thermogenic
HEAT ACCELERATED
---
The top-rated fat burner. Infused with 30 powerful ingredients, it harnesses thermogenesis and natural stimulants to promote fat burning. Experience smooth, sustained energy, mobilize body fat for energy, and accelerate your metabolism with this award-winning formula. Achieve the body you've always wanted with Heat Accelerated!
Auto-renews, skip or cancel anytime.
To add to cart, go to the product page and select a purchase option
30 Day Money Back Guaranteed
Free Shipping On All Orders Over $100
View full details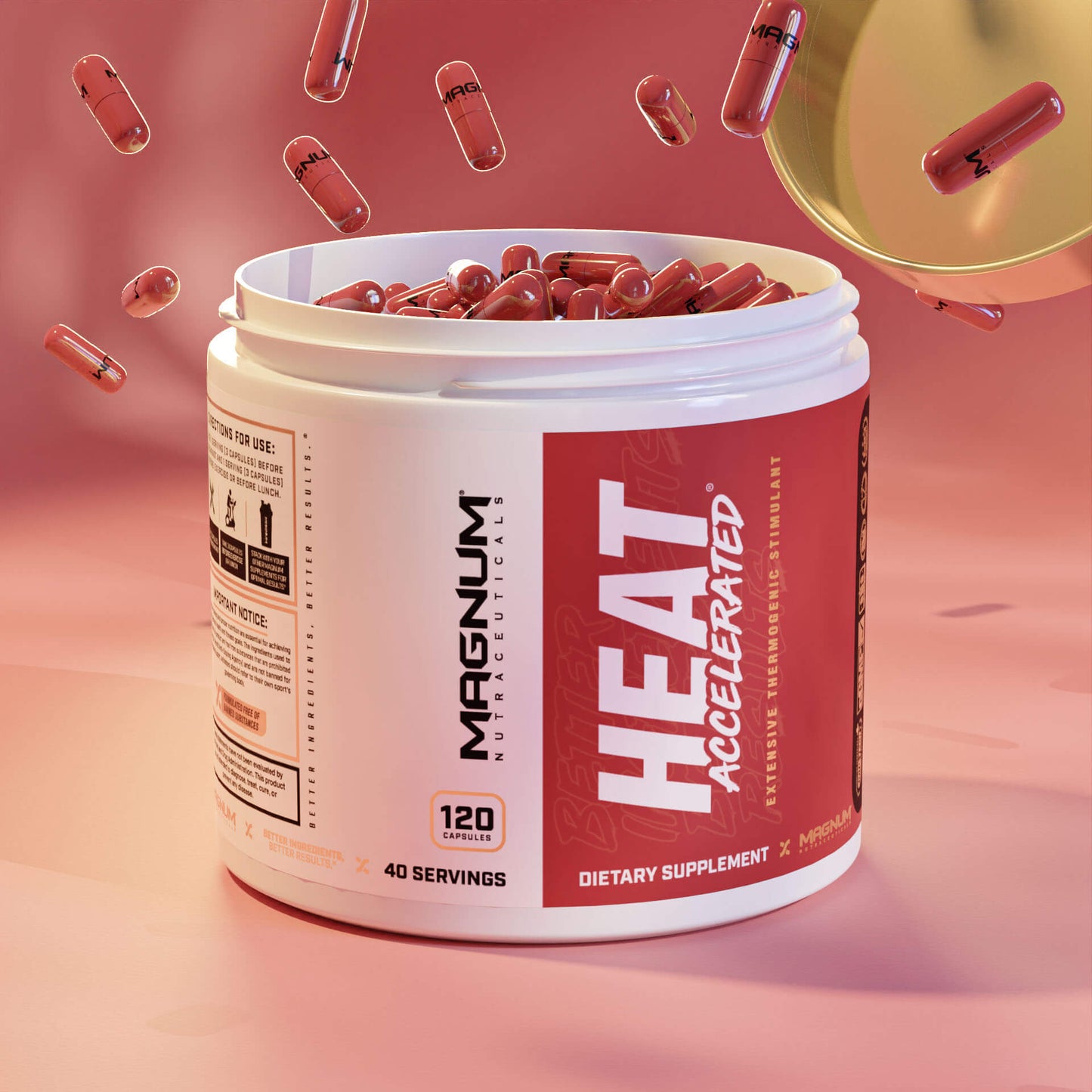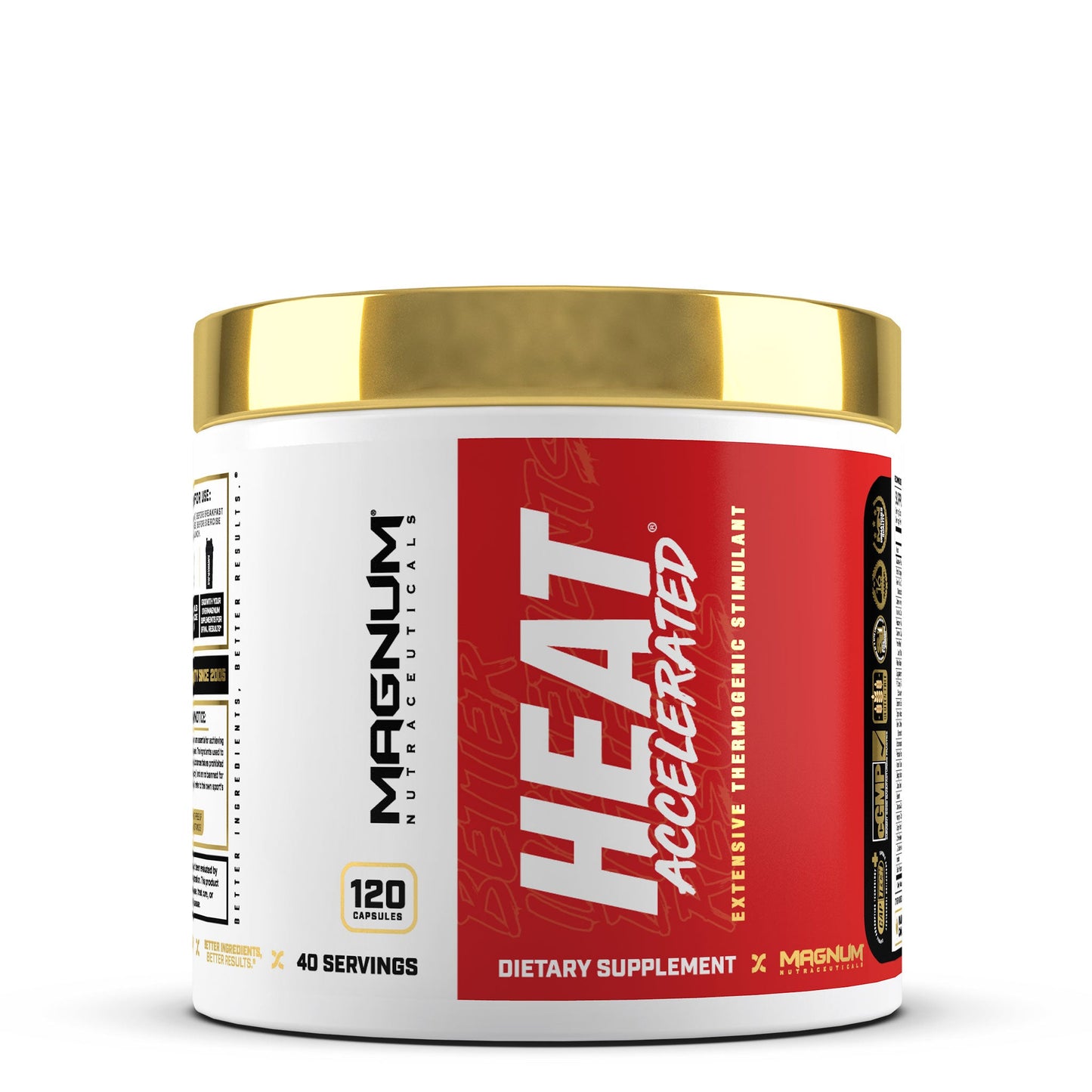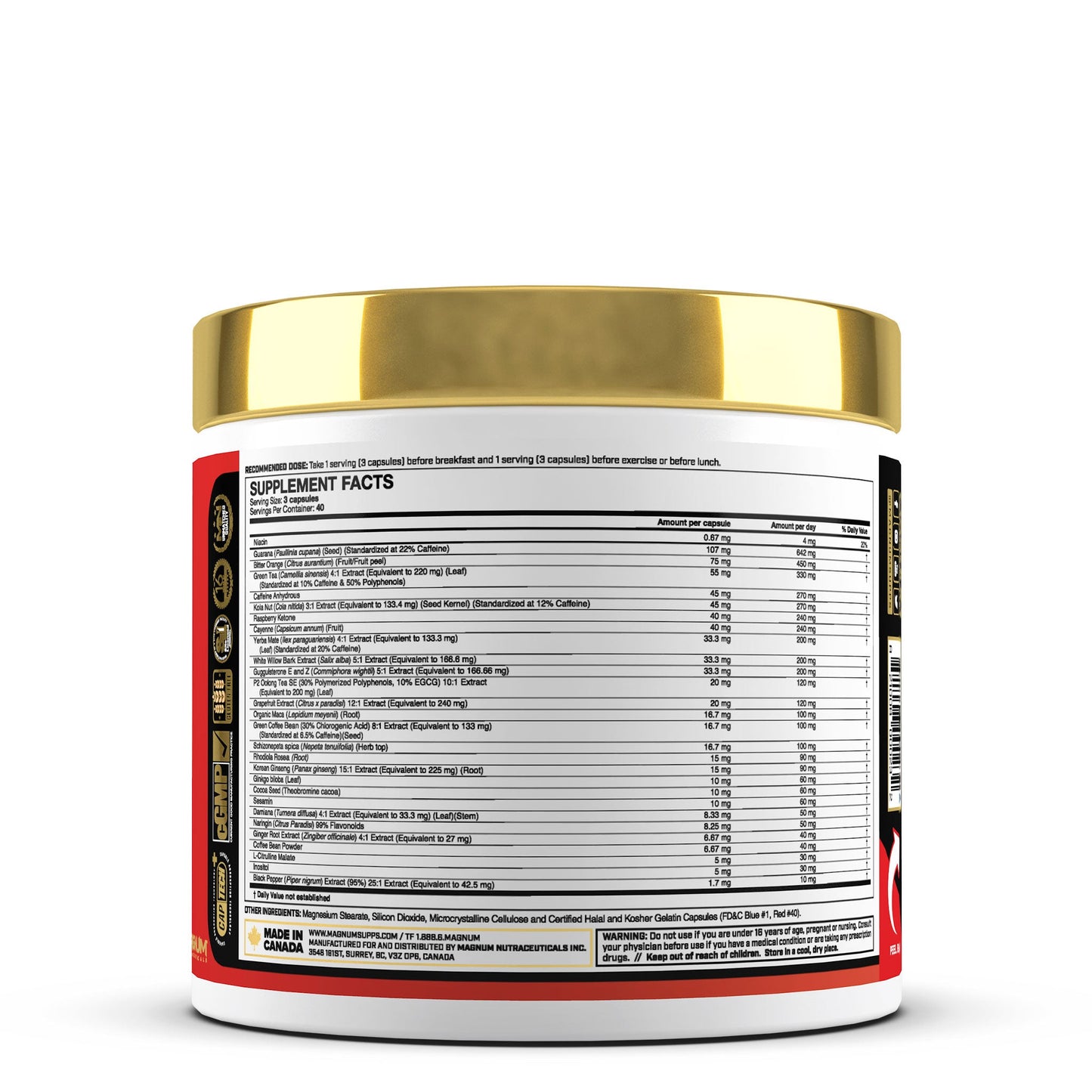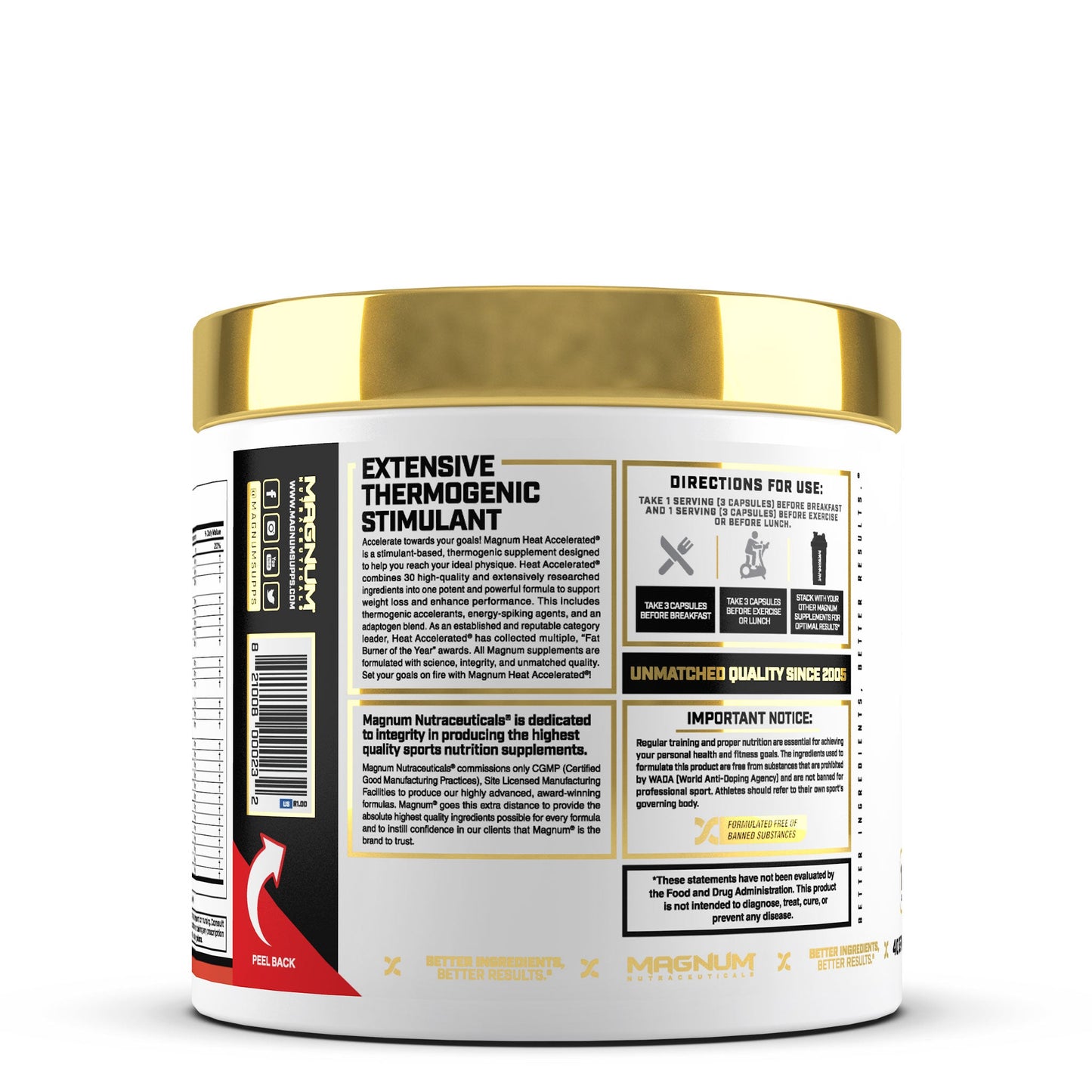 HEAT ACCELERATED Features
27 ingredient blend of multiple ingredients, including natural extracts
Seven sources of naturally occurring caffeine
Guarana, a natural source of caffeine with cognitive benefits
Bitter orange, a natural stimulant that increases metabolic rate
Yerba mate, a source of caffeine that improves cholesterol and blood sugar levels.
Grapefruit extract that enhances the effect of caffeine and other stimulants
Cayenne to boost core temperature
Accelerate Your Goals With:
Helps control blood sugar levels

thermogenic & fat loss aid
One of my FAVORITE
One of my FAVORITE Magnum Supps of all time. I dont know what I would do if this stuff wasn't around anymore LOL!! Heat gives me energy to get through my workouts, and makes me sweat SO MUCH. Crank up da heat!!
I love HEAT! It
I love HEAT! It is my go to product for burning unwanted stubborn fat. I've tried other fat burners before and nothing has compared to the results I get from HEAT. I get a wicked sweat during my workouts, focus and don't feel weird or jittery like other fat burners.
Quand je me prépare
Quand je me prépare pour un événement ou juste pour être prête pour la saison bikini, Heat fait toujours partie de stack! Heat augmente la dépense calorique quotidienne, c'est un excellent brûleur de gras! Il suffit de quelques jours pour voir des résultats avec un entrainement et plan alimentaire adapté!
Love HEAT! No crash
Love HEAT! No crash with this product, just super sweaty and fat burning! I love how it gives me energy and focus but without any adverse effects like many other fat burners. The best on the market!
This makes you SWEAT!
This makes you SWEAT! Usually it takes me about 20-30 minutes to start sweating in a workout. I take this 20- 30 minutes before my workout and I'm sweating as soon as I pick up my first weight.... haha it's crazy!
Frequently Asked Questions
I've been taking this product for awhile and haven't noticed anything - is it working?

Thermogenic products only increase your metabolic rate, and give you energy. Weight management ultimately comes down to your overall energy balance. To lose weight you must be consuming less calories than you expend during the day. While this product may help you be more active, it is not a substitute for a calorie reduced diet.
Can I stack this with other Magnum thermogenic products?

While many of our products are meant to be stacked, we advise caution when stacking multiple products that contain caffeine, as this may exceed your tolerance. Heat contains 142 mg of caffeine per capsule, so if you're consuming with other products like Limitless (150 mg caffeine/scoop) or Fasted Cardio (150 mg of caffeine/scoop), we suggest using half a scoop and using only 1 capsule of heat.
Is it ok to use this product while on medication?

We highly advise caution if you are on medication and recommend you speak with your physician or qualified healthcare professional, as Heat contains grapefruit extract, which can interfere with certain medications.