QUATTRO SHAKE SERIES
Muscle-building, 4 protein blend
QUATTRO SHAKE SERIES
---
Magnum Quattro Shake Series, an enhanced milk protein isolate blend. Features four isolates with time-release absorption. Boosts metabolic rate, aids fat utilization, supports muscle growth. Comes in creamy chocolate and vanilla milkshake flavours. Kosher, peanut-free, gluten-free, dye-free, and lactose-friendly. Enjoy 30g protein per serving, zero gas or bloating.
30 Day Money Back Guaranteed
Free Shipping On All Orders Over $100
View full details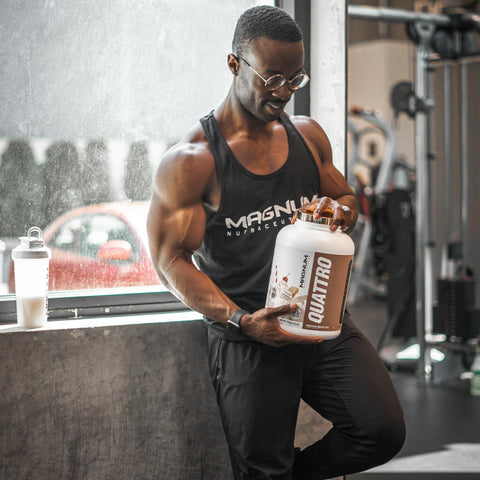 QUATTRO SHAKE SERIES Features
4 Protein Isolate Blend
30 g Protein per scoop
Milk Protein Isolate, Whey Protein Isolate, Egg Protein, Micellar Casein
Blend of fast, medium, and slow digesting protein sources
High source of EAAs and BCAAs
Added bromelain to maximize protein digestion & absorption
Kosher certified, Peanut-free, Gluten-free, Dye-free
Extremely gut-friendly - ZERO Gas or Bloating
Perfect for lactose sensitivities
LOW Carb & LOW Fat
2 Flavours Available
QUATTRO SHAKE SERIES
$49.99
Accelerate Your Goals With:
The best out there, nor none
I was lucky to meet James Ellis, world fitness champion and sponsored by Magnum Nutraceuticals who recommended me to their products. I've been trying different protein shakes for years and never have I felt the difference nor seen the results I've gotten from their Shake Series. As far as I'm concerned, any other product is most likely a waste of your time and money.
Quattro is life changing
I have most recently discovered Quattro and I am obsessed. I always got stomachaches from taking protein powders after my workouts, but not with Quattro!! I am now questioning how I went this long without having Quattro in my life. Literally a. game. changer!!
Amazing taste!
I was shocked that this is a protein shake. Almost to hard to believe, 30g of protein and the best flavour out there! New favourite! <3
THE BEST PROTEIN EVER! finding
THE BEST PROTEIN EVER!
finding a lactose and gluten free protein is almost impossible. add in the amazing taste and my mind is blow ever time i drink it!
LOVE Quattro! Before finding
LOVE Quattro! Before finding this product I had tried several other proteins which all left me feeling bloated and gassy. Quattro has four types of time released protein keeping me feeling fuller for longer. Lactose free, gluten free, kosher and like all Magnum products it is pharmaceutical grade! They even had a guaranteed no gas promise!
Frequently Asked Questions
How many scoops should I have per day?

We recommend 1-2 scoops per day to supplement your total daily protein intake.
How is Quattro Shake Series different from regular Quattro?

Quattro shake series and Quattro are virtually the same with one key difference: the amount of Milk Protein isolate that is a part of the 4-protein blend is HIGHER in Quattro Shake series compared to the Whey Protein Isolate. This causes Quattro shake series to mix up a bit thicker than regular Quattro and gives it that milkshake-like consistency!
Can I have this if I have a dairy allergy?

No, unfortunately, Quattro is made from dairy protein. If you have lactose intolerance (a sensitivity to the sugar, lactose) you can still have Quattro as it's virtually lactose free, and perfect for those with lactose sensitivities. For people with dairy allergies, we recommend Vegan Quattro!
Can this be taken before bed?

Yes! Quattro is designed to be taken at any time during the day. We recommend drinking Quattro after training, before bed, and as part of a meal replacement shake.